PUBLISHED : Sunday, 12 February, 2017, 6:17am
---
12:25
Reports emerging that at least three people are fighting for their lives in hospital after running in today's Hong Kong Marathon.
11:00
Very odd scenes as the morning draws to a close in Victoria Park as the Men's Marathon winners are asked to return to the stage for a repeat prize presentation, this time with Hong Kong Olympic Committee president Timothy Fok handing out the trophies. Seems like Mr Fok fancied a Sunday morning lie in.
---
10:20
Fianlly time for the Marathon prize presentations as runners continue to stream over the finish line in Victoria Park, where it is turning out like a very nice day … especially if you are taking home a cheque for US$65,000 … (or US30,000 or US$15,000) ….
Women's Marathon winner Gulume Tollesa Chala says she will build a house and start a business with her prize money.
---
10:05
No word of a proposal yet, but these two might want to shower before walking down the aisle …
---
10:00
Leung Wing-yan is the leading local in the Women's Marathon, finishing in 3:04:10
And a big congratulations to Angie P, who has battled back from cancer to finish the Women's 10km having fought the condition by switching to a vegan diet. She has also published books and documentaries about veganism.
---
09:45
Great stuff from the top two finishers in the Men's Marathon …
And our Women's Marathon winner is also happy despite the early start …
---
09:40
Christopher Ngai Kang is the leading local finisher in the Men's Marathon
---
08:55
Hong Kong's Tsui Chi-kin makes it to Victoria Park as 'We Will Rock You' continues on a constant loop …
08:50
ETHIOPIA'S GULUME TOLLESA CHALA WINS THE WOMEN'S 2017 HONG KONG MARATHON
It's a double for Ethiopia as Gulume Tollesa crosses the line in 2:33:39
Compatriot Betelhem Moges Cherenet is second, 10 seconds back.
And last year's winner, Letebrhan Haylay Gebreslasea, is third a further seven seconds back.
---
08:25
ETHIOPIA'S MELAKU BELACHEW WINS THE MEN'S 2017 HONG KONG MARATHON IN A NEW RECORD TIME 2:10:31
His previous personal best was 2:13:10 in May 2015 in Germany, so a good day at the office.
Kenya's Julius Kipyego is second three seconds and about 10 metres behind.
Ethiopia's Chala Adguna Bekele third, a further 58 seconds back.
---
08:15
Three generations of the Lam family finished the family run together and are now going for some dim sum now. They do right. Granny said she's not tired and very happy.
---
08:00
Cantopop star Stephanie Cheng is across the line in Victoria Park …
As is TV personality Elaine Tang Yuk-ling …
---
07:50
Men's Half Marathon Overall
1. Wang Kun 01:08:52
2. Li Shaozhuanf 1:10:11
3. Wan Cheuk-hei 01:10:24
---
07:45
Hong Kong Half Marathon record holder Gi Ka-man continues his comeback from injury by crossing the line in Victoria Park.
"I felt a bit of tightness in my calf last week when I did a half marathon in Japan and it was very cold so maybe that was why. It's been a frustrating time with injuries, but I still think I can get back to my best. I did the first 10k in about 32 minutes before my calves tightened. Definitely not unhappy I have a marathon in Japan next month and that is the main target. But I love this race, I've been coming for nearly 20 years since 99 – even though I can never get the record because it's too hard."
Gi Ka-man targets another half-marathon title on comeback
Taiwan's You ya-jyun claim's the women's Half Marathon title on her second visit to Hong Kong.
---
07:30
Men's 10km Overall
1. Chan Ka-ho – 32.10
2. Wong Tsz-to – 32.18
3. Shuen Chun-kit 32.22
"The young guys wanted to beat me very much because I am old, I am more than 10 years older," Chan Ka-ho said.
Women's 10km Overall
1. Lui Wai-man 38.06
2. Tong Lok-yu 38.36
3. Kate Rutherford 38.48
---
07:00
Chan Ka-ho is the husband Hong Kong Olympian Christy Yiu Kit-ching, who is giving this year's Marathon a miss as they aim to start a family before Tokyo 2020.
Hong Kong star runner Christy Yiu gives marathon a miss to have first child between Olympic Games
On the Marathon course, the leaders are going through the first tunnel.
Kate Rutherford claims the Masters title in the women's 10km, third overall.
---
06:50
Mabel Lui Wai-man takes the women's 10km title.
---
06:20
And first acorss the finish line in Victoria Park is Chan Ka-ho as the winner of the men's 10km in 32.10.
And Gavin Massingham takes the win in the men's Masters catergory in a time of 32:56, that's sixth overall.
And it's straight into media interviews for Chan Ka-ho.
Chan Ka-ho leads home four members of the Nike Running Club, who are first acorss the line.
Being told it is a new junior record.
---
Good morning and welcome to our coverage of the 2017 Standard Chartered Hong Kong Marathon and we are live from Victoria Park, where 74,000 runners will cross the finish line at the end of the 10km, Half Marathon and Marathon.
First across the line at around 6.20am will be runners competing in the 10km race, with the first finishers in the Marathon set to arrive around two hours later having started on Nathan Road in Tsim Sha Tsui at 6.35am.
Kenyan Mike Kiprotich Mutai defends the Marathon title he won in monsoon conditions last year, with Letebrhan Haylay Gebreslasea from Ethiopia also is back in the women's race having prevailed over the 26.219 mile course 12 months ago.
Hong Kong's top female marathon runner Christy Yiu Kit-ching, though, is missing as she is planning to have a baby this year, but leading local male runner Hard Tsui Chi-kin is in action.
Marathon Route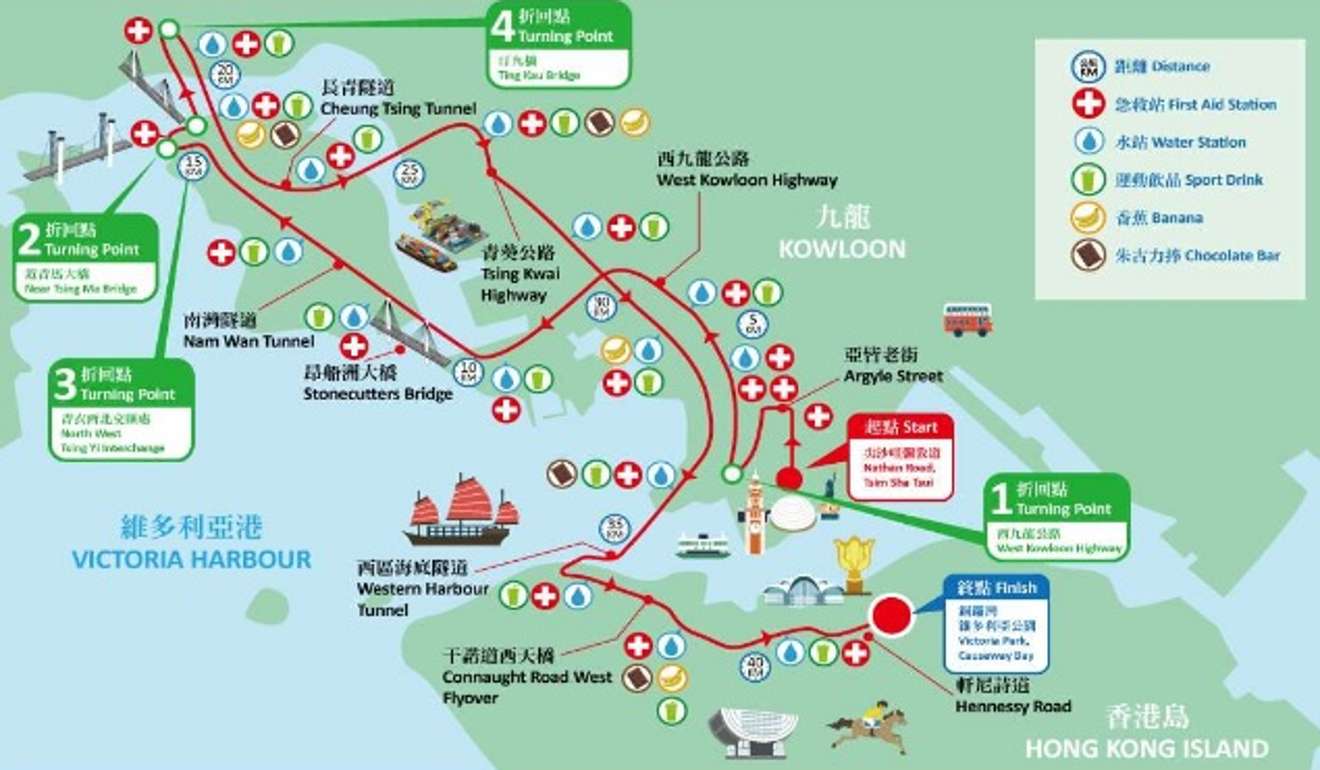 Half Marathon Route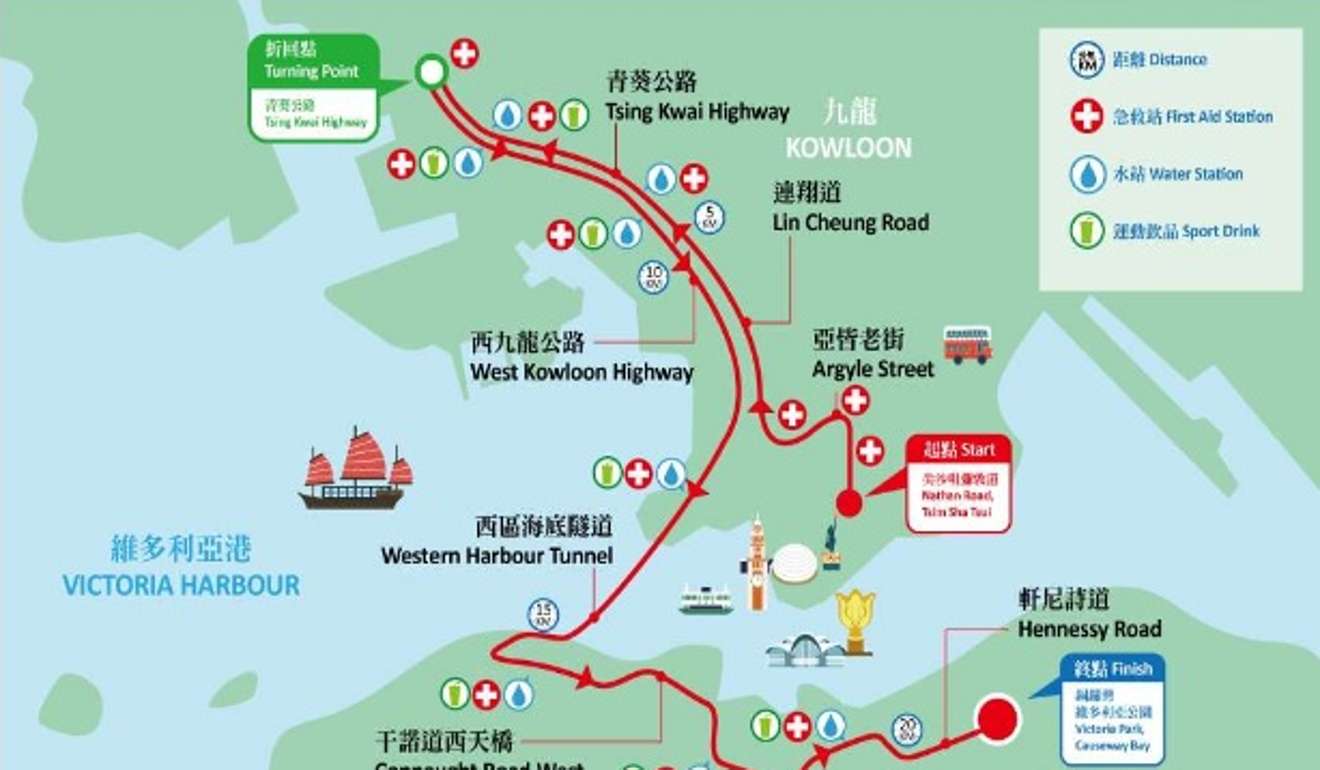 10km Route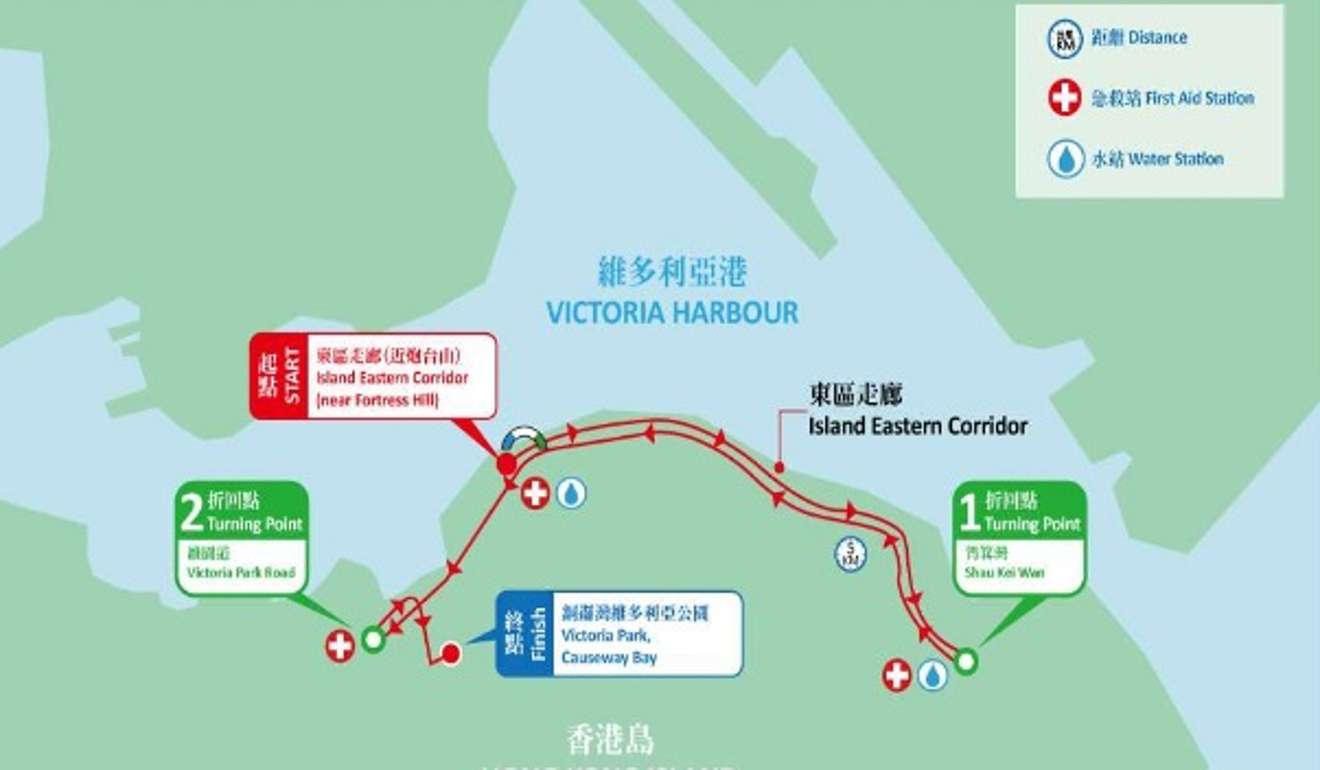 10km Wheelchair Route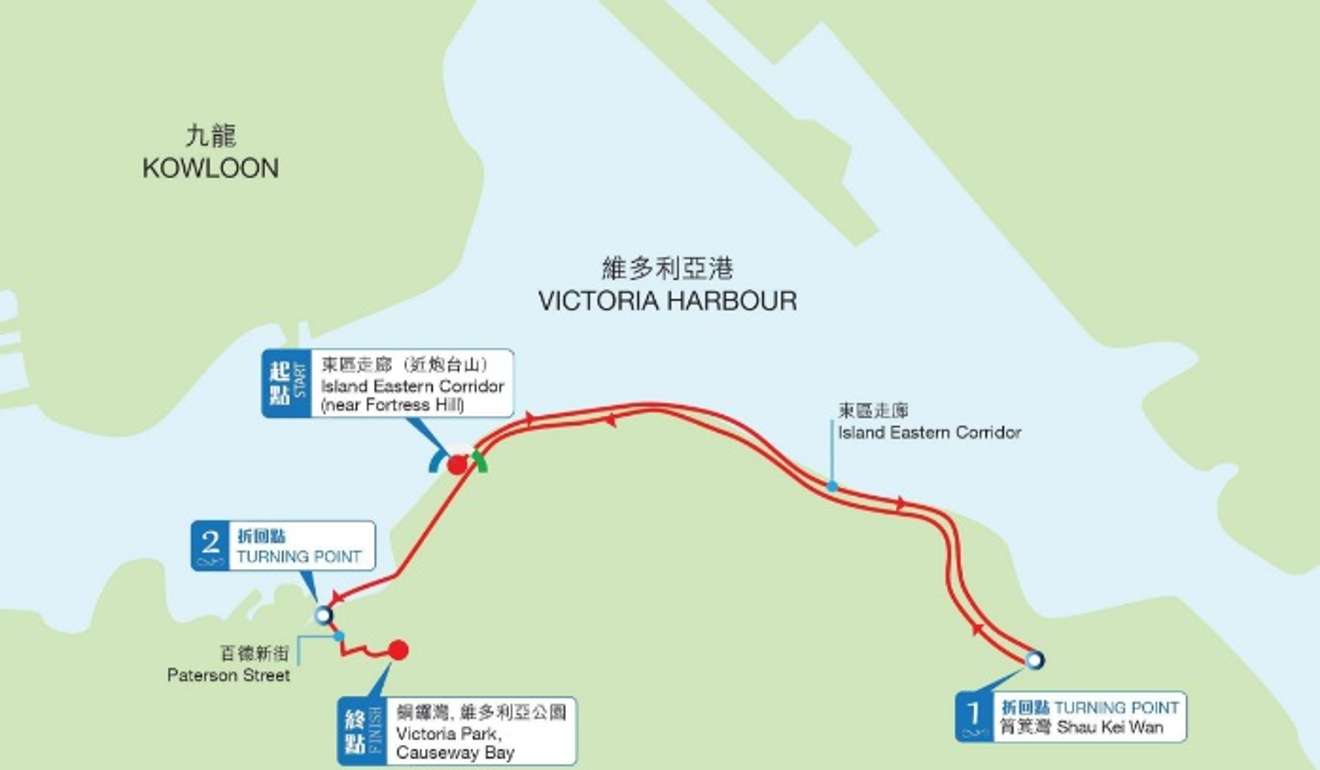 3km Wheelchair Route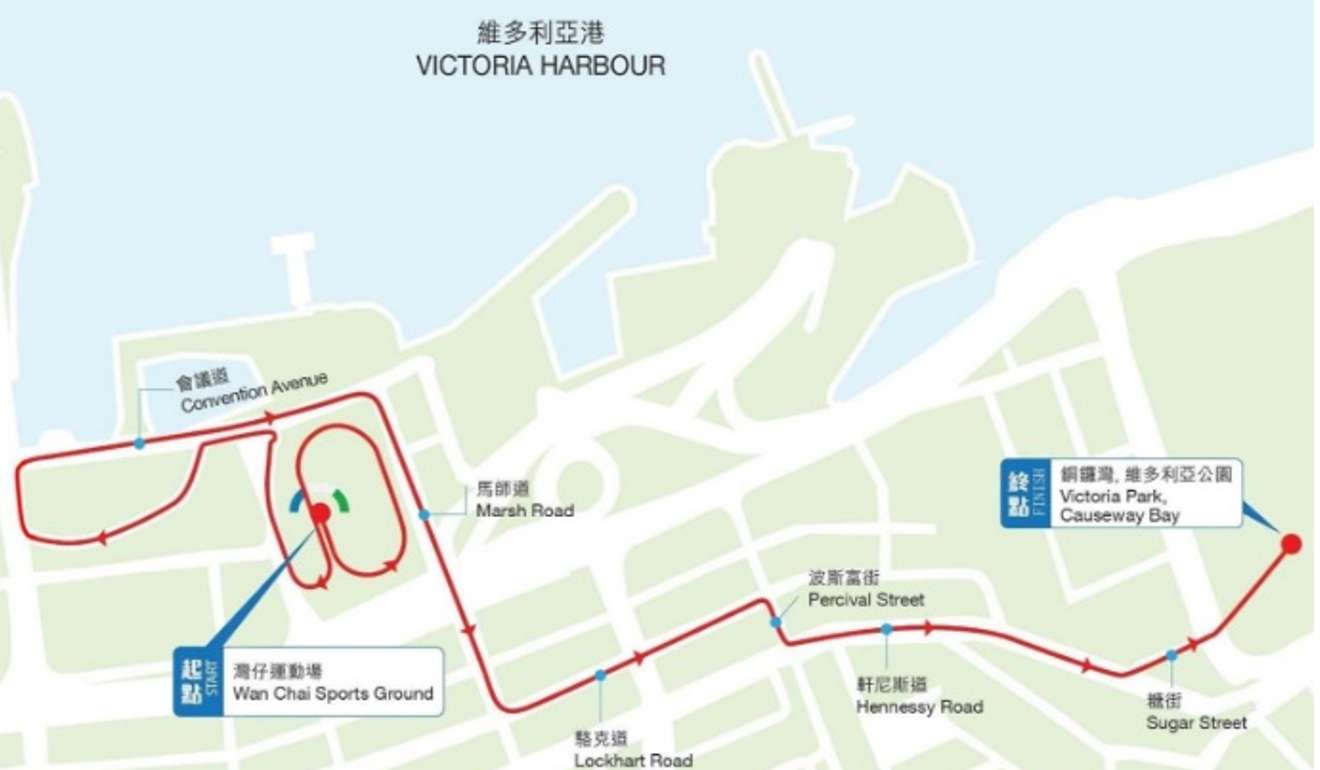 But before we get down to that, why not get in the mood by checking out our earlier coverage of this year's event …