Tampere University was about to appoint Ethiopia's controversial prime minister an honorary doctorate by the university in May. The press release on the appointment has yet been removed from the network, and the president of the university says there will be no appointment – as the prime minister can not come.
Yle News was contacted by an Ethiopian journalist in exile in Finland was very upset at Tampere University of Technology figured appoint Ethiopian Prime Minister Hailemariam Desalegn an honorary doctorate by the University. Desalegn are former students of the University, and an honorary doctorate is the highest recognition a university can give a person.
Ethiopia declared a state of emergency in October last year after several months of anti-government protests. The two largest ethnic groups in the country, oromofolket and amharafolket, feel they are oppressed by the regime, which mainly belong to minority ethnic team tigre.
Prime Minister Desalegns governing coalition EPRDF has 500 of Parliament's 547 seats, the rest is held by his allies.
Hundreds were killed and tens of thousands were imprisoned during the protests, according to several human rights organizations.
"An insult to all Africans"
Muluken Tesfaw fled to Finland from Ethiopia in May last year. He ran an opposition newspaper in the capital Addis Ababa and was afraid for his life in what Ethiopia has been under Prime Minister Desalegn.
"As Ethiopians who actively follow the events in Ethiopia, it feels like an insult that they plan to honor the leader of a brutal undemocratic regime. Not just an insult against me, but against all Africans, and especially all Ethiopians, "writes journalist Muluken Tesfaw.
"To honor the Ethiopian Prime Minister means supporting the killing of more than a thousand Ethiopians in the regions of Amhara and Oromia by the regime's security forces brutality. It means that you accept the imprisonment and torturing of more than 30 000 people of the nations Amhara and Oromo. That you think it's okay that the state is controlled by the military during the state of emergency regime has declared. That you do not care about the millions of Ethiopians leave the country for fear of torture and imprisonment, "he continues.
Also including Professor Alemayehu G. Mariam from California State University have expressed their dismay over the plans to honor Desalegn with an honorary doctorate.
Headmaster: We can not appoint him if he is not in place
The only press release on the appointment of the university site was dated September 20, 2016, but had been removed. There are still remaining in the Internet cache.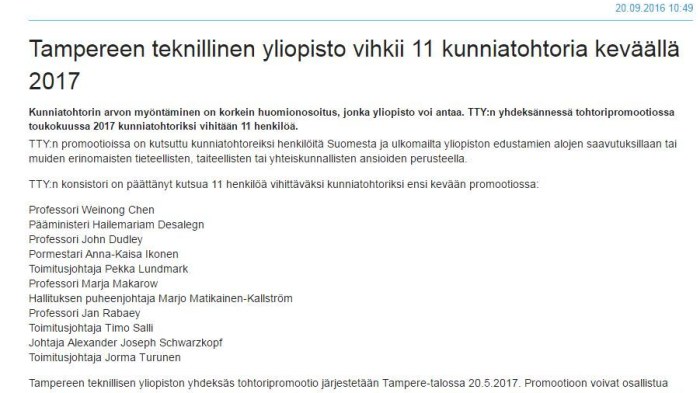 We have been contacted by Ethiopians who are upset about your plans to honor Hailemariam Desalegn with an honorary doctorate. You still have removed the press release about it from your web pages. What is the position with the appointment?
– We will not appoint him, says Rector Mika Hannula by telephone.
Why not?
– He told us a week ago that he can not come, and we can not appoint him if he is not in place.
Were there other reasons?
– We can not appoint him if he's not here.
What were the reasons that you were going to appoint him in the first place?
– He is a renowned academics who have done commendable work in water technology.
Why have you removed the press release about the appointment?
– I can not say anything about it. I do not know.
https://svenska.yle.fi/