Renowned Ethiopianist, sociological theorist Donald N. Levine has died at the age of 84
Renowned Ethiopianist, sociological theorist Donald N. Levine has died at the age of 84.
His son, Bill Levine announced this morning that "Gash Liben, Ethiopian scholar, lover of Ethiopia, founder of the Aikido Ethiopia Project has passed away today at 1pm."
Professor Donal Levine was the Peter B. Ritzma Professor of Sociology and former dean of the College at the University of Chicago. For nearly half a century he was devoted to Ethiopia-as a scholar, in university teaching, in providing expert assistance to various government bodies, and in community service on behalf of Ethiopians at home and abroad. Levine's publications on Ethiopia include dozens of articles, parts of The Flight from Ambiguity: Essays in Social and Cultural Theory (1985), and two books, Wax and Gold: Tradition and Innovation in Ethiopian Culture (1965), and Greater Ethiopia: The Evolution of a Multiethnic Society (1974). His last book on Ethiopia was Interpreting Ethiopia: Observations of Five Decades that came out on November 20, 2014. According to the publisher, the remarkable collection has assembled interpretive vignettes-some never before published-spanning more than half a century. "Thanks to his unique experiences living among peasants of Northern Shoa, visiting historic monasteries, and enjoying personal connections with modernizing Ethiopians from all political viewpoints, these essays offer acute glimpses into everything from local life-worlds to historic perspectives spanning two millennia," it said.
Before joining the Chicago faculty in 1962, he taught at Ethiopia's University
College of Addis Ababa. Levine eventually received a Doctor of Letters honoris causa in 2004 from Addis Ababa University, where his citation read: "Ethiopianist, sociological theorist, educator: you have succeeded in all three vocations. Your pioneering work, Wax and Gold, has become an Ethiopian classic. As manifested in its title, yours is an exceptionally imaginative quest to reach an understanding of Amhara society from the internal point of view. The very concept of "Wax and Gold" has taken a life of its own: it figures at once in our understanding of Ethiopia's pre-modern culture and in our coming to grips with Ethiopia's reception of modernity. Greater Ethiopia draws attention to the deep fact that Ethiopian life is rooted in multicultural identities, and it also demonstrates the salient bonds that hold them together."
In 1979, Levine began the practice of aikido, to which he has remained devoted ever since. In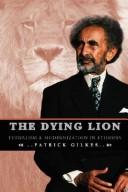 2003, he was promoted to the rank of yondan (4th-degree black belt) through the Aikido Schools of Ueshiba. He served as head instructor of the University of Chicago Aikido Club since the late 1980s. In 1986 he began teaching a credit course, Conflict Theory and Aikido, described in Powers of the Mind. The course helps students to understand and manage social conflict by combining texts from a number of disciplines with regular training in aikido's aggression-neutralizing techniques. He was founding president of Aiki Extensions Inc., a non-profit organization that networks and supports individuals involved with "off-the-mat" aikido applications. In 2011 he compiled a selection of his articles related to aikido under the title, Aiki Waza Michi Shirube, Aikido Practice is a Signpost to the Way.
Source- www.ethiopiaobserver.com/
117th Adwa Victory anniversary in Washington, DC by Professor Donald N. Levine