Forces loyal to the vice-president of South Sudan say their positions in the capital, Juba, have been attacked by government troops.
UN representatives reported heavy exchanges of gunfire near their headquarters in the suburb of Jebel.
The clashes follow days of fighting between supporters of President Salva Kiir and Vice-President Riek Machar.
The violence has raised fears of renewed instability, with a 2015 peace deal failing to quell unrest.
Heavy gunfire was reported on Sunday in the Gudele and Jebel suburbs of Juba, near a military barracks occupied by troops loyal to Mr Machar.
"For about 30 to 40 minutes we heard sounds of heavy artillery in the direction of Jebel area," an aid worker based in Juba told Reuters.
---
Huge distrust – Mary Harper, BBC World Service Africa Editor
The situation in South Sudan has echoes of the days before the civil war began, in December 2013, when skirmishes between troops loyal to Salva Kiir and Riek Machar escalated into a national bloodbath, killing tens of thousands and displacing two million.
As artillery fire rings out in the capital Juba and a helicopter gunship buzzes overhead, desperate work is under way to try to calm the situation and to prevent the clashes from spreading.
But huge distrust remains between Mr Kiir and Mr Machar and between their forces. The leaders may even be struggling to control their own troops. A number of peace deals have been signed – so far, none has led to lasting stability.
Sunday's clashes are first since Friday, when a half-hour gun battle with heavy weapons and artillery killed more than 100 people.
A South Sudanese journalist told the BBC that reporters counted at least 100 bodies on Saturday, inside and outside the presidential palace's compound.
Some estimates have put the total death toll in the recent violence at more than 250.
Friday's exchanges were apparently sparked by a shootout between Mr Kiir's and Mr Machar's bodyguards. The two men met at the presidential palace on Friday, and issued a call for calm.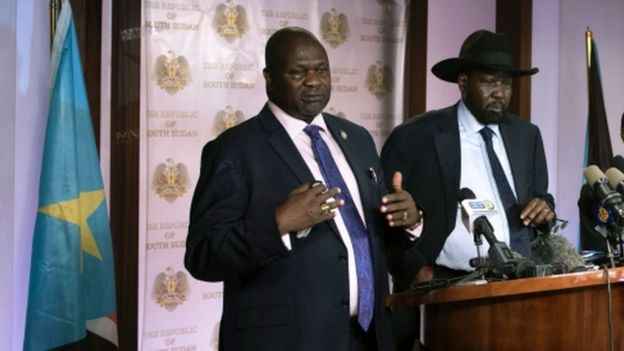 South Sudan, the world's newest country, marked its fifth anniversary of independence from neighbouring Sudan on Saturday in lockdown.
The country is so short of money that no official anniversary events were planned.
Tens of thousands died and millions were displaced in the civil war that ended with the division of Sudan five years ago.
---
Five years of South Sudan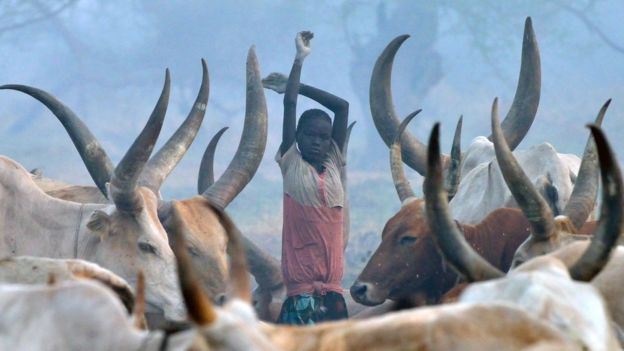 July 2011 – South Sudan becomes an independent country, after more than 20 years of guerrilla warfare, which claimed the lives of at least 1.5 million people and displaced more than four million.
December 2013 – Civil war breaks out after President Salva Kiir sacks the cabinet and accuses Vice-President Riek Machar of planning a coup. Over 2.2 million people are displaced by the fighting and severe famine puts the lives of thousands at risk. Mr Machar flees the country.
August 2015 – President Kiir signs a peace deal with rebels after a threat of sanctions from the UN.
April 2016 – Riek Machar returns to South Sudan to take up his job as first vice president in a new unity government led by President Salva Kiir.